EPS, PSP Foam Sheet Extrusion Line

Expanded PS Foam Sheet Extrusion Line, equipped with tandem extruder and unique screw design, produces fine cell structured extruded polystyrene foam sheet with high strength, pearly and even surface in a continuous roll.
Our tandem extruder, an integral component of the EPS Foam Sheet Extrusion Line consists of
A primary extruder which melts and intensively mixes PS with a blowing gas and other additives.
A secondary extruder optimizes a cooling and forwards the melt to the foaming die enabling proper and maximum output.
A unique screw provides an intensive mixing and enables the production of quality foam sheet with any cell size, density, flexibility, and surface texture.
Our dies, engineered to high tolerances to specified process requirements, provide efficient process and flexibility to create the highest quality foam to meet customer's diverse demands.
Auto temp. control via PID temp. control or PLC controlled touch screen on customer's request.
Auto cooling system on the secondary extruder with AL cast heaters is available.
Hydraulic screen change system enables a continual production even during changing screens.
AC motor and variable frequency inverter control system are durable at any harsh factory environment.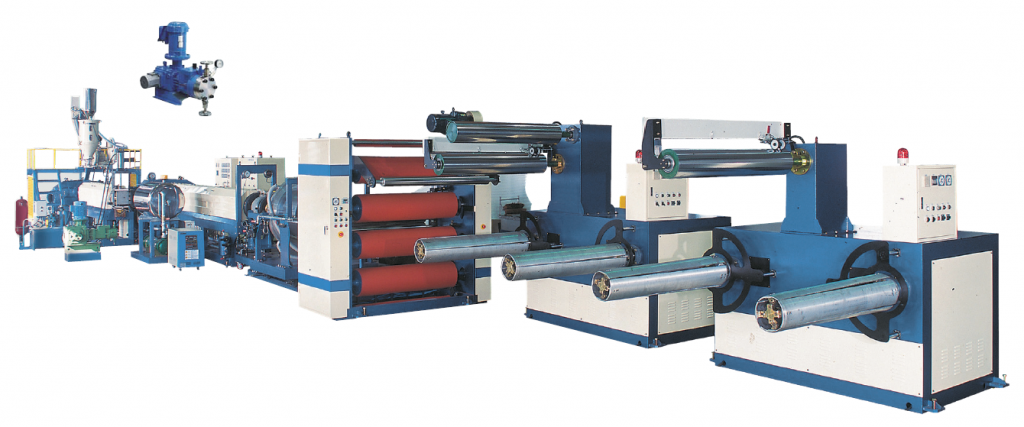 Characteristics of EPS, PSP foam
Glossy surface like pearl
Formable to any shape
Excellent cushioning characteristics and insulating properties
Moisture proof and rarely corroded by chemicals (except aromatic hydrocarbon, ketone, and ester)
Specifications
| | | | |
| --- | --- | --- | --- |
| Item/Model No. | PSS 90-120 | PSS 100-130 | PSS 120-150 |
| Capacity | Approx. 220kg/hr | Approx. 300kg/hr | Approx. 500kg/hr |
| Max. width | 500-1,300mm (1 layer) | 500-1,300mm (1 layer) | 500-1,300mm (2 layers) |
| Thickness | 0.9~4.0mm | 0.9~5.0mm | 1.0-5.0mm |
| Density | 50-130kg/m3 | 50-130kg/m3 | 50-130kg/m3 |
| Electricity | 160kw | 200kw | 350kw |
| Screw dia. | 90mm x 120mm | 100mm x 130mm | 120mm x 150mm |
Applications
Internal cushioning for foods, fruits, cosmetics and industrial machine parts
Lunch boxes, bowls, trays and other types of containers, toys, educational materials, and molded ceiling panels